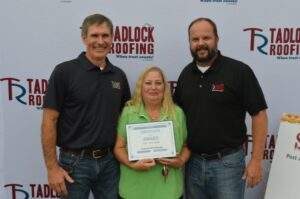 "The purpose of life is not to be happy. It is to be useful, the be honorable, to be compassionate, to have it make some difference that you have lived and lived well." – Ralph Waldo Emerson
At Tadlock Roofing, we've built our foundation on not only making a difference in the roofing industry, but also the lives of our dedicated employees and the communities we serve. While roofing is what we do, making a difference is why we do it, and that's all made possible with your support.
As a family-owned and operated business with strong Christian values, we feel it's our duty to be of service to others. We've been blessed with the opportunity to do what we love, and we are grateful to be able to be blessing to others.
Through partnerships with various non-profit organizations such as the Disability Resource Center of Panama City, Pensacola Habitat for Humanity and Jacksonville's HabiJax, Tadlock Roofing has replaced the roofs of a handful of homeowners within the past 2 years at no cost to them, and we're just getting started.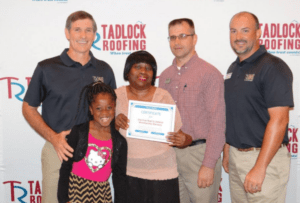 When you purchase a roof from Tadlock Roofing, we are able to provide families in your community, who would otherwise be unable to afford it, the roofing work they so desperately need.
Now, with offices located in Tallahassee, Jacksonville, Tampa, Orlando, Panama City and Pensacola, we have even more opportunities to make a lasting impact in the lives of the less fortunate in the communities where we live and work.
As our company continues to grow, so does our ability to give back, and that is truly our greatest blessing. Buy a roof, give a roof – that's the Tadlock promise.
Check out some photos from our recent roof giveaways and join the movement by requesting a free estimate for your roof replacement today.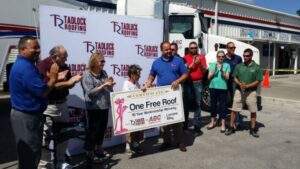 If you're not in need of roof work and still want to join the movement to help the less fortunate in your community, you can refer a friend who is in need of roof work to Tadlock Roofing, we will compensate you for your referral and you can rest easy in knowing that your referral supports our efforts to shelter those in the community who are in need.